by therealting on Nov.20, 2007, under Brown:music, Gigs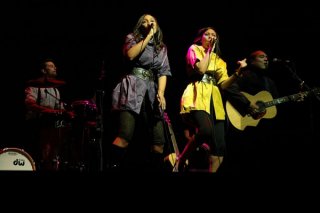 We had a fantastic time on the 17th Sept playing to more than 10,000 people… I don't think I'll ever forget walking out onto the stage for the first time and seeing a huge black sea of people, unseen apart from blue and green flashing glowsticks! There are already a few videos of our performance on Youtube (click here), and I also shot a "behind the scenes" clip during soundcheck which you can watch by clicking here. Look out for the enthusiastic cameo from our friend Jason from Take That! 
Some pictures viewable now on our Facebook group - click here to visit. We'll be adding them to our Myspace soon and I'll try and throw a few up here at some point. 
The Take That show was an almost ridiculously spectacular production, and it was a little surreal watching the boys perform in person when our school class used to listen to Take That about 12 years ago, and when we had opened the show. Surreal indeed! If you're lucky enough to have nabbed tickets to any of the Take That gigs this year, you're in for a heck of a show! 
We're already really looking forward to the Glasgow gig this Friday, and the Royal Albert Hall gig is little more than a week away now…